Sheet Set - 500 Thread Count 100% Cotton Sateen - Uber Comfort
Sheet Set - 500 Thread Count 100% Cotton Sateen - Uber Comfort
Threadcount:
500
What's the difference?
Fabric: 100% Cotton - Sateen Weave
Know The Different Thread Counts
Discover the luxury of different thread counts each resulting in a unique weight and feel.

WHAT'S INCLUDED:
Each sheet set comes with 1 Flat Sheet,
1 Fitted sheet that fits both low profile and tall mattresses, and 1 soft, breathable Standard/Queen Pillowcase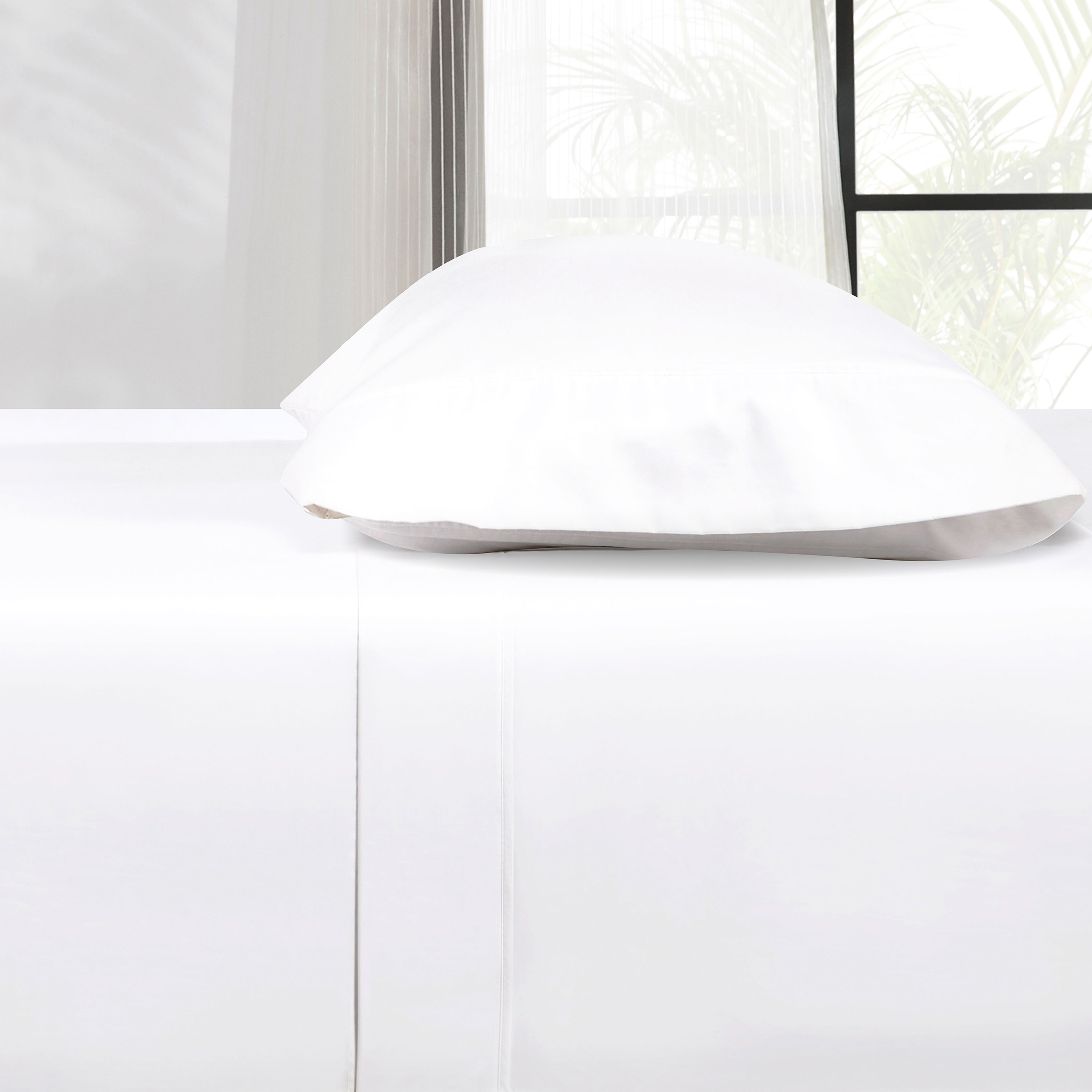 EXTREMELY FUNCTIONAL YET IRRESISTIBLY STYLISH:
Carefully handcrafted & firmly stitched to perfection. Each of our linen bedsheets lasts for decades.
The luxurious sateen weave of these bed sheets add a dash of glamor to your bedroom while making your cotton sheet sets oh-so-comfortable.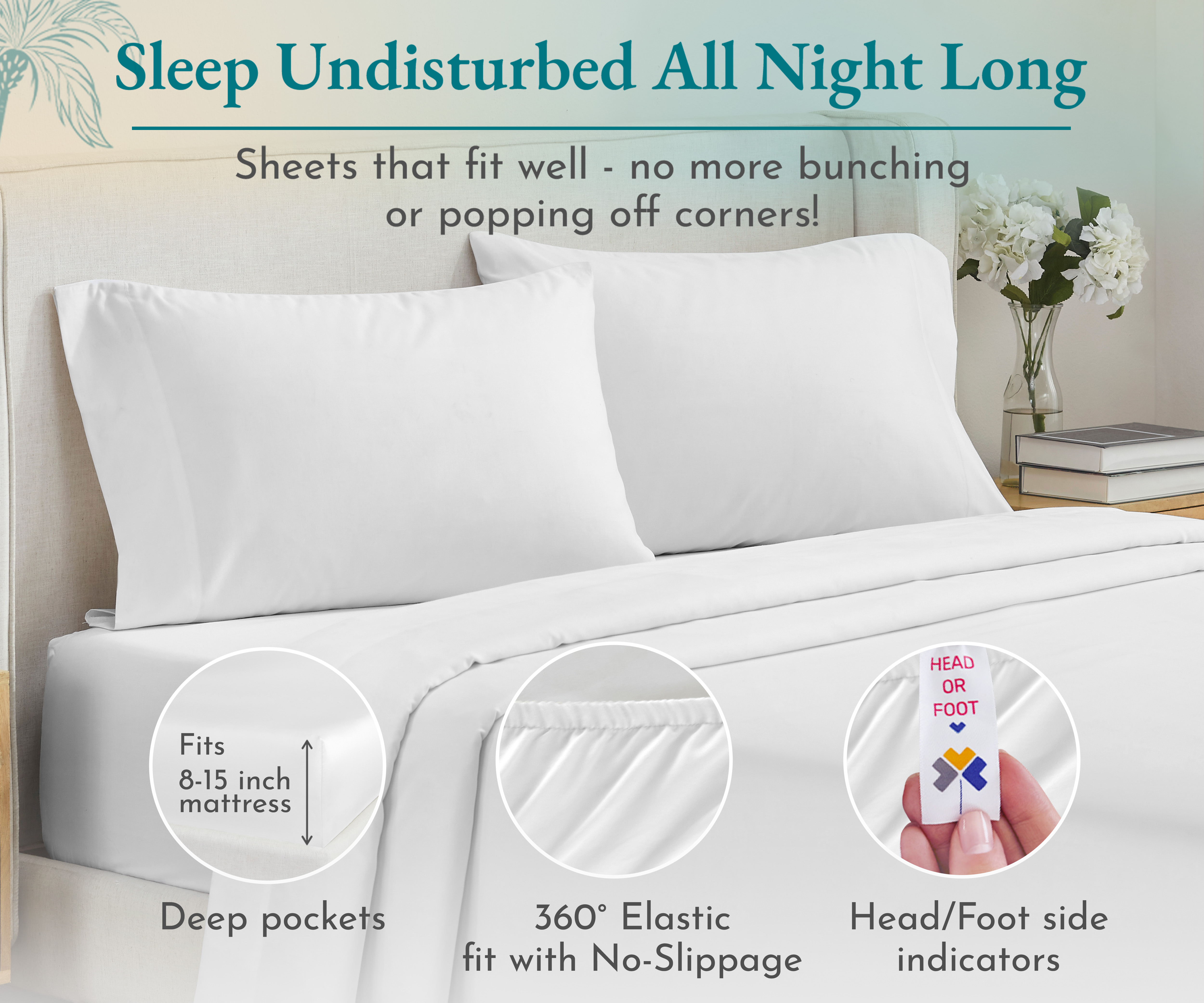 Our elasticized fitted deep pocket sheets promise a snug fit. So your bedsheets won't pop off at midnight.
The smart head & footer tag is a massive time-saver while making up the bed.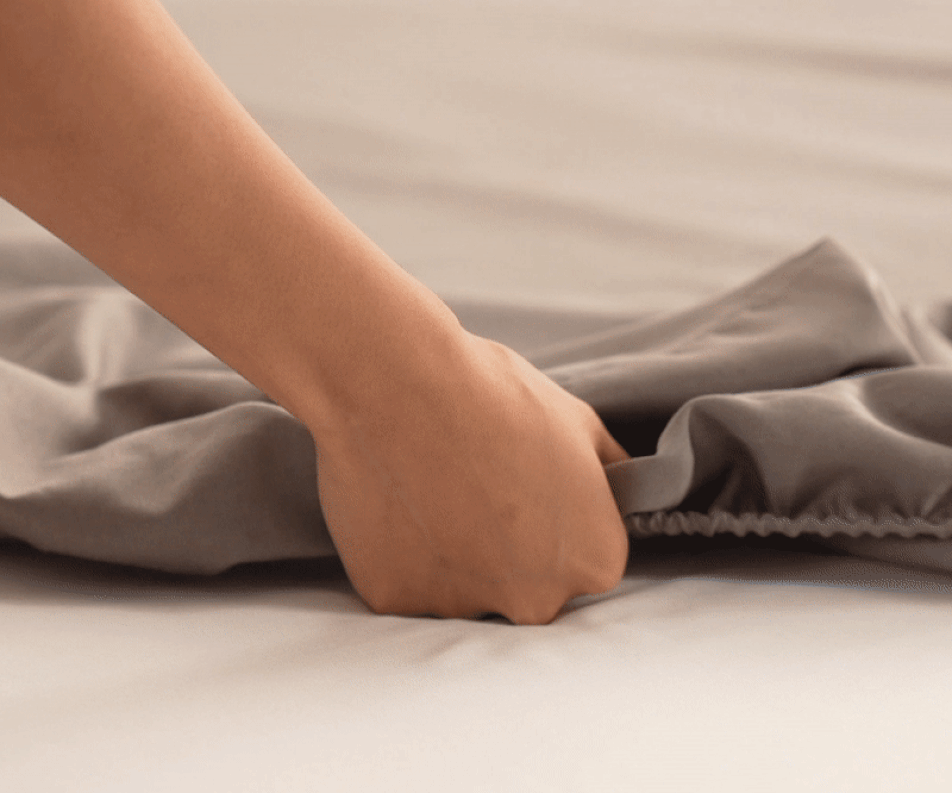 Consciously made in India by a family-run business, the cotton sheet set comes with Standard 100 & OEKO Tex Certifications.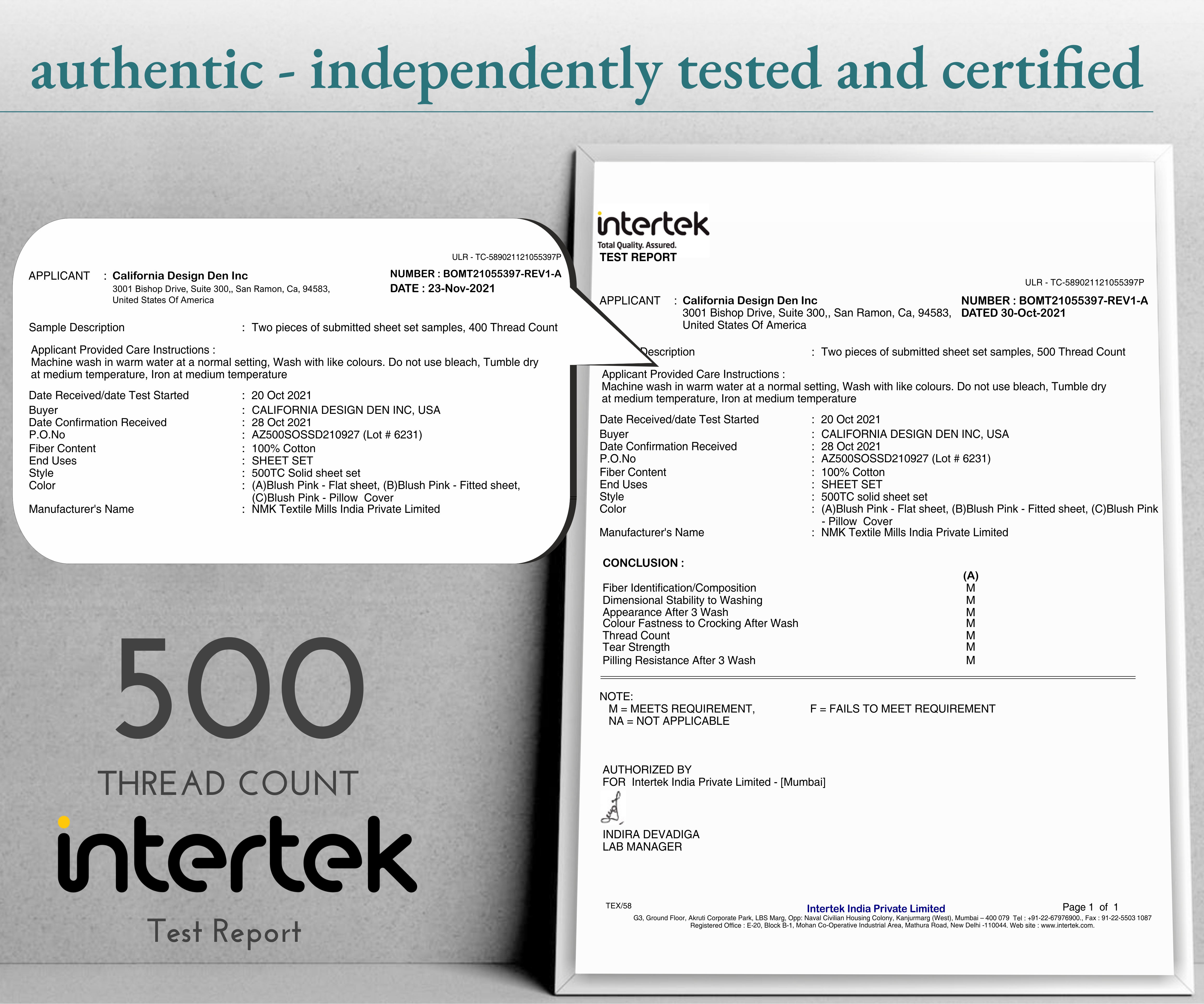 The colors of California Design Den cotton bed sheets don't fade, even after many machine washes. Pill-Proof & Odor-Free!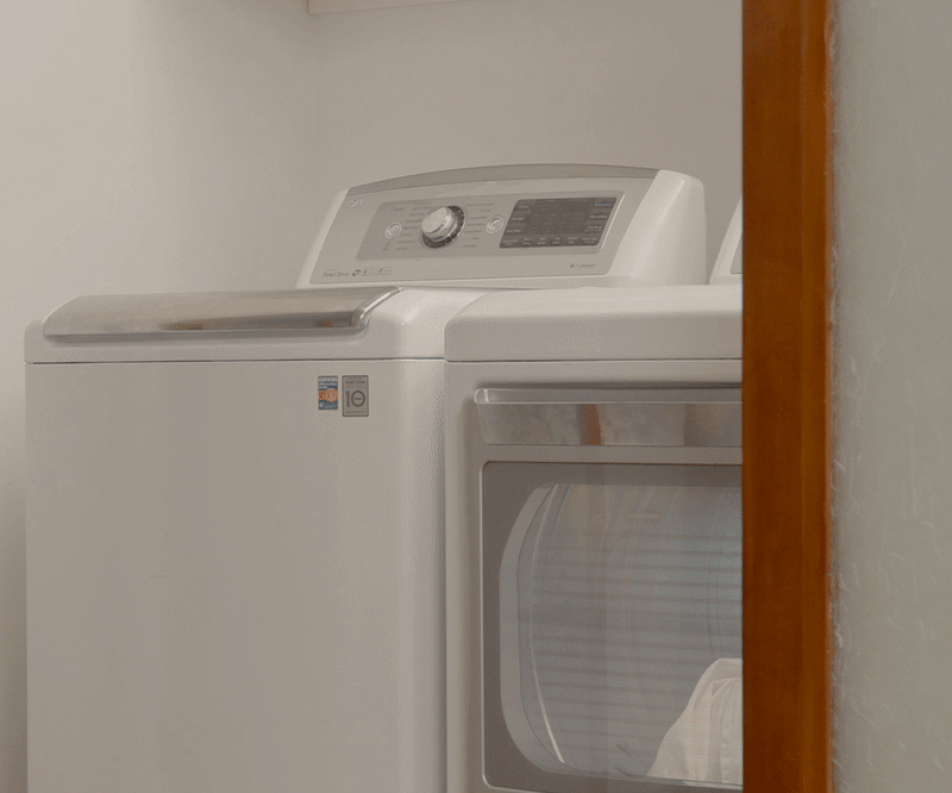 REFRESHINGLY COOL, INCREDIBLY COMFORTABLE & BUTTERY SOFT
Forget all your stress as you slip on these softest, coolest, and breathable 100% pure, cotton sheets.
Perfect soft sheets even if you're a hot sleeper.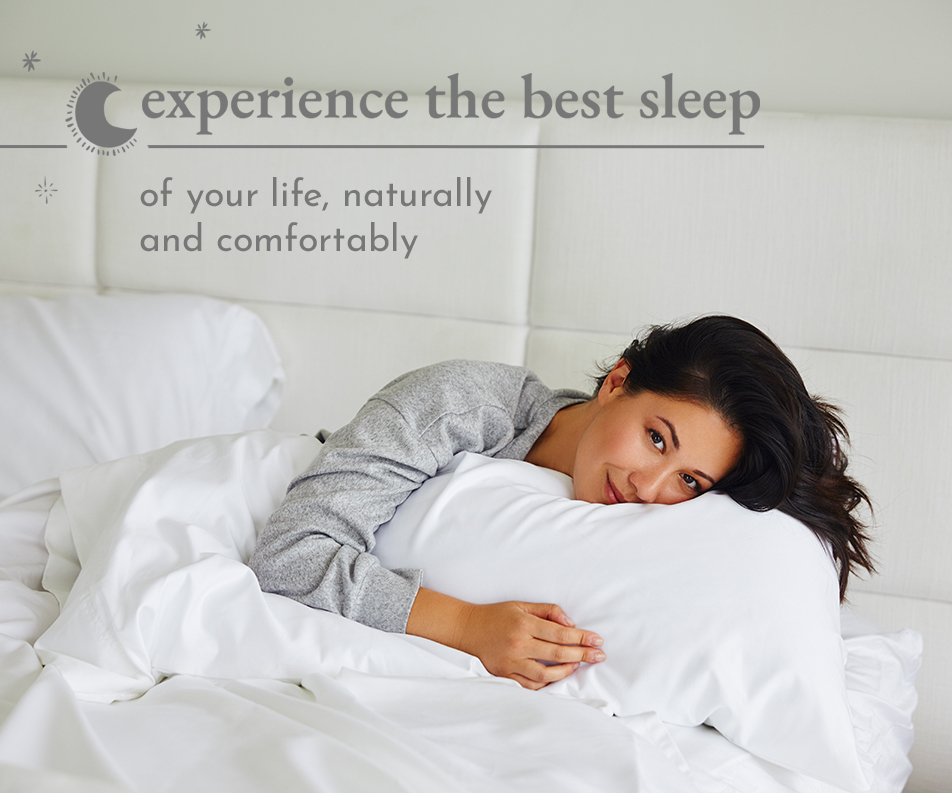 Care Instruction
Sizing Chart


FAQ's about Buy with Prime
What is Buy with Prime and how does it work?

Through our partnership with Amazon, Buy with Prime offers you the full Prime experience: free shipping, easy returns, and Amazon's trusted customer support. Shop on californiadesignden.com, see the Prime logo for eligible products, and enjoy these benefits – just like shopping on Amazon.
How do I make a purchase using my Prime benefits on California Design Den?

When you decide to purchase a product using Buy with Prime on our website californiadesignden.com, you will be prompted to sign into your Amazon account. You can then complete your order using your preferred payment method stored in your Amazon account. 
Is this really the same delivery experience I'm familiar with as a Prime member?

Buy with Prime purchases offer the fast, free delivery and free returns on eligible products and a seamless checkout experience shoppers trust. 
Where can I check the status of my order?

You can check your order status by clicking on the link in your shipment confirmation email, which will bring you to your order details page on our website, californiadesignden.com. For Buy with Prime purchases, you can't see or track orders on your Amazon.com orders page or in the Amazon mobile app. 
What is the Buy with Prime Return Policy?

Buy with Prime orders are eligible for return. To start a return, view your order status from the link in the email you received after you placed your order. You'll be able to begin the return process and print a USPS return label. For eligible orders, you will receive a full refund as long as the returned items are in resellable condition and returned within the return window. If you have questions about return eligibility or the return process, contact us at help@californiadesignden.com. Buy with Prime orders are covered by the Amazon Pay A-to-z Guarantee.
Load More

Who do I contact for issues or questions for my order?

If you either have a question or experience an issue with your Buy with Prime order, contact us at help@californiadesignden.com. You'll receive an order confirmation email with a link to see your order status and how to contact California Design Den team.

Do I have to be a Prime member to use Buy with Prime?

Yes, you must be a Prime member to purchase products using Buy with Prime on California Design Den website. When you click on the Buy with Prime button, you will be prompted to sign in to your Amazon account, and your order will be processed using your preferred payment and shipping information stored in your Amazon account.

How do I initiate a return for Buy with Prime purchases?

To initiate a return for an eligible product purchased using Buy with Prime, click on the link in the order confirmation email to go to your order details page. From there you will be able to select the item(s) that you want to return and print a return shipping label. Then drop off your package at your local USPS location. Note that Buy with Prime purchases cannot be returned using other carriers besides USPS and may not be dropped off at Amazon locations such as Amazon Lockers, Whole Foods, or Amazon Go. You can verify the return eligibility of your purchase by visiting the Return Policy page.

How long does it take for me to get a refund?

For eligible orders, you'll receive a refund once the item is dropped off and scanned at a USPS location. Otherwise, the refund will be processed once the item is received and reviewed at our fulfillment center. It could take up to seven business days for the refund to show up in your account.

Can I use Amazon gift cards, promotional discounts offered by Great Circle US or points when I use Buy with Prime?

Amazon.com gift cards, promotional discounts offered by GreatCircleUS or points can't be used as a payment method to place an order using Buy with Prime. Amazon.com Gift Cards can only be used to purchase eligible goods and services on Amazon.com and certain related sites as detailed in the Amazon.com Gift Card Terms and Conditions.

Can I make Buy with Prime purchases if I'm not in the US?

Buy with Prime orders can only be placed and shipped within the US.

Can I set up subscriptions using Buy with Prime?

Buy with Prime does not support subscriptions.

What happens if my order is late?

Most packages arrive on time, but orders sometimes show up after the estimated delivery date. Possible reasons for late delivery include:

 - Incorrect address

- Missing apartment, building, floor, or unit number

- Severe weather conditions

- Other carrier-related delays

If you do not receive your order in the anticipated time frame, we recommended that you do the following:

From your order confirmation email, click through to the order details page to check the status of your order. Your shipment confirmation email will also include a link to track your package.

On the order details page, you can confirm your shipping address.

Wait 48 hours to allow for unexpected delays.

What forms of payment do you accept?

Amazon Pay accepts credit and debit cards. Credit cards currently accepted include Visa, Mastercard, Discover, American Express, Diners Club, and JCB. Learn more about Amazon Pay payment methods.

How is sales tax determined?

The amount of sales tax charged on your orders depends on multiple factors, including the type of item purchased and your delivery address. The tax rate is the combined state and local rates associated with your address. For example, if you live in a state that does not impose a sales tax, you may still see tax calculated on your order if it is delivered to another state. Sales tax is calculated and charged at the time you place the order.
Why Choose us?
A SMART PICK FOR HEALTHY SLEEP
Science has shown that our bodies have been designed to sleep on natural materials for thousands of years, making cotton the ideal choice for bedding.
.
Exchange & Returns
Delightful customers are our #1 Priority. If you are unsatisfied with your purchase, we offer free 30 days return. Your refund will be issued to your original form of payment once the returned item has been received. To initiate a return, please email us at help@californiadesignden.com with your order id & the reason for return.This policy is not extended for our towels, comforters, blankets & quilts. If you have any issues with any of our products after 30 days, you can write to us at help@californiadesignden.com and we will try our best to resolve it for you :)
Shipping
California Design Den offers complimentary expedited shipping on all orders to USA addresses. Most purchases ship within 2 business days. Priority shipping is also available for an additional cost.
Most comfortable sheets
We received the California Design Den Sateen Weave 500 count Queen Sheets. They are 100% extra long staple cotton and ethically made. We received 1 flat sheet, 1 fitted sheet, and 2 pillowcases. Everything fit perfectly on our bed. We have a thicker style mattress that we usually have to use clips to keep our fitted sheets on. The deep pockets on this never slipped or rolled up. These sheets are super soft, light, and airy. We stayed cool even on those hot nights we have had. Knowing that this product is produced safely and by happy people makes it even better. If I had any complaint it would be that they are white, but that's more preference. I highly recommend trying this brand!
Bed sheets
These are very durable sheets. Perfect with the deep pockets for staying on a thick mattress. Has a very good elastic around for firmer stay. Sheets are soft with a cotton/silk feel. Pillow cases are perfect for standard pillows.
So Very Soft
These sheets are a dream. So very soft and comfortable and with the deep pockets they easily fit over my mattress. They can beautifully go along with most any dcor with their bright white color with subtle stripes. Washes easily and virtually wrinkle free made from 100% cotton so they are all natural.
Excellent sheets!
These sheets are unbelievably soft! They wash up nice, do not wrinkle easy in washer or dryer like my precious sheets. I feel the benefit to owning these sheets is when your crawling into bed, you feel nice and cozy sheets welcoming you to a good night's sleep. I highly recommend these sheets!!
Soft and comfortable
These sheets are super soft, have been washed twice and are holding up well. Way more comfortable than microfiber!